Economists, teachers and otherwise inferior counterparts welcomed the English champions to the Land of Ice and Fire upon an eccentric horizon – desolate yet beautiful in nature.
A hazy mist rolled over the Seltjarnarnes peninsula with a putrid punch – the fish markets of the northernmost capital of a sovereign state raced to flog their daily stock – Reykjavik was an unpretentious destination for Aston Villa to begin their European conquest.
The Hlíðarendi Stadium sat lonely underneath a star-studded skyline on September 30, 1981, with a mountainous backdrop behind Jimmy Rimmer's goalmouth providing the figurative scope of Villa's quest. Was Rotterdam even on the radar?
Flat out for four or five goals
Villa's leader Ron Saunders demanded that his side go "flat out for four or five goals" in the home leg, leaving a visit to FC Valur Reykjavik nothing more than a frail challenge. It was also the platform Gary Shaw used to announce himself on the European stage, having scored two impressive away goals.
Lighting up the northern reaches of Europe was no achievement for Saunders' side. Big city adventures, riots in Belgium and cockroach sandwiches were all to come for the European Cup hopefuls of 1982.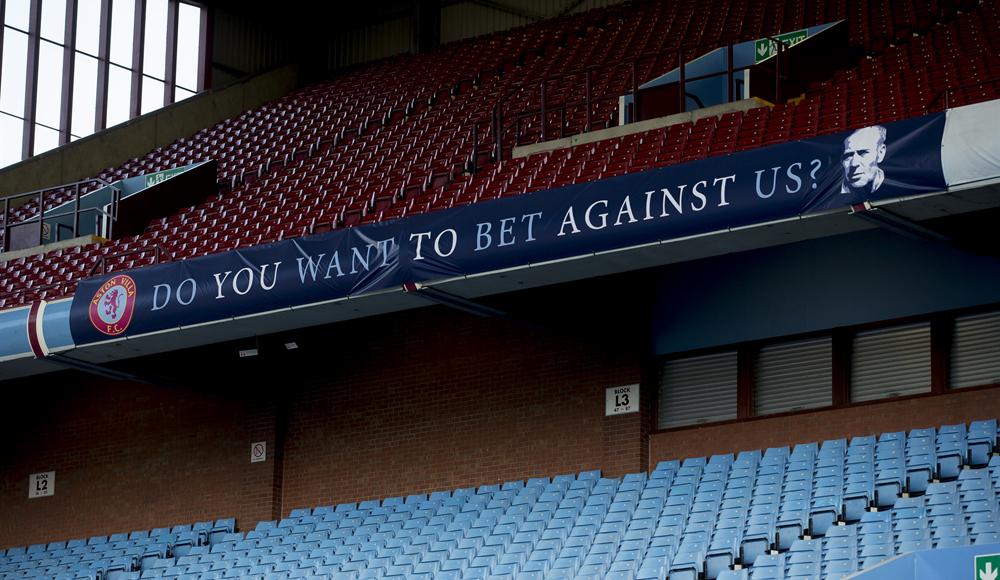 Immortalised across Villa Park's 100 years old structure, the transcription of Villa's greatest moment remains visible to those housed in the arena of the once Europe champions, opposing Saunders' famous mantra plastered on the Holte End: 'Do you want to bet against us?'
Villa were three ties away from Rotterdam. Times were different, European Cup reformation hadn't yet taken place and the political landscape was drastically different.
A long way away from the eerie southern shore of Faxaflói bay, the Stasi police backed, East Germany side Dynamo Berlin would come up short to a Tony Morley double under the Berlin Wall.
Though Villa's quarter-final place was hardly set in stone, with Jürgen Bogs' Berlin already proving their worth against Brian Clough's Nottingham Forest side who'd struggled to penetrate the ten-time East German champions in the midst of their golden era in 1980.
Rimmer's heroics in Birmingham sent Villa through by the skin of their teeth, with a penalty save of sorts the first foiling of an almost indomitable German onslaught. Hans-Jürgen Riediger later wheeled away in premature celebration before Rimmer and a lick of paint collectively helped Villa win on away goals.
Dynamo Kyiv
Villa advanced into the next round to visit another Soviet-occupied state to face Dynamo Kyiv, who boasted European Footballer of the Year Oleg Blockin.
Harsh, icy gales over the Dnieper River forced Villa to head south of the Iron Curtain to the Crimean city of Simferopol to meet the Ukrainian champions. Kyiv hadn't kicked a ball for three of the four months since Villa beat Berlin during their period of winter hibernation – Villa's luck was in.
Villa took their own provisions for battle, including steaks, eggs, bread and tea. Gordon Cowans' insect-infested sandwich wouldn't deter the midfielder as he, alongside a 16-man army, would march into Crimea with the bit between their teeth.
Without their commander, Saunders – whose shock resignation handed Tony Barton a stab at history – Gary Shaw and Ken McNaught dispensed months of upheaval to advance into the last four.
After a stalemate in Kyiv, the wettest March on record in Birmingham threw the possibility of hosting a return leg into doubt. With the help of over 150 volunteers and tonnes of sand, the pitch was made playable despite the club unable to use a £12,000 pitch cover that couldn't cope with the heavy, Second City gales.
Villa progressed as the only English side left in the final four after Liverpool fell victim to one of the competitions scalps to CSKA Sofia. Only the dislocated shoulder suffered by Dennis Mortimer could quash Villa's excitement.
A fortnight later and former club scout Barton earned a permanent role and Shaw lauded his former boss to Vision Sports: "We had great players and in Ron Saunders and the often overlooked Tony Barton we had great managers."
Anderlecht
Tomislav Ivić's plucky Belgian champions Anderlecht played the penultimate tie as Villa faced their sternest of tests yet. Barton cursed the first leg as a wounded battlefield after the Paars-wit were out to bruise and broil Villa, who won on home turf by a single Morley goal.
Sadly, the spite and prickle of Villa's first leg spilt over to violence in Belgium, marring what was the club's greatest achievement… so far. "You're the scum of Birmingham," vexed the Villans not involved in the brawl.
600 or so un-ticketed fans had arrived on foreign soil with only one intention before both sets of players were escorted off the field for a period of time in-between the 27 arrests from the Villa mob.
A stalemate in the Belgian capital was enough for Villa to reach their first-ever European final despite Anderlecht's appeal to UEFA – only then could Barton breathe a sigh of relief.
Rotterdam
Queues spilt over to Witton Road, campervans raced to secure tickets to Rotterdam and lager was in supply by the barrels at The Tavern – this was home to Villa fans despite clocking over 7,000 miles across Europe in the past months.
A convoy of Brummies in high spirits with beer-soaked moustaches drafted into Holland by coaches without air-conditioning.
The sweltering heat laid the goalmouths bare and sandy, but for Villa, a bobble or two wouldn't go a miss later on that evening. Claret and blue flags drooped in the stands as territory on the pitch for Villa was limited having been installed as major underdogs.
Dusk settled on Rotterdam like the outing of a light beam at the theatre. Karl-Heinz Rummenigge was the supposed lead act before a disequilibrium disrupted a predictable plot as Williams adventured down the left. "It must be! And it is!" Peter Withe's shin connected with the ball before crashing the post on it's maiden route to goal.
Reserve goalkeeper Nigel Spink was the unlikely hero as he replaced Rimmer in the opening minutes. As the old adage goes, you need luck to win a cup and Villa counted on it in heaps.
Gallons was the measurement of success on the night, long forgotten was the stench in Reykjavik when the champagne's aromatics swelled from the European Cup, swung a loft by Aston Villa heroes, they the architects of a monumental occasion for the those of a claret and blue persuasion.