'They used to be Manchester United, Barcelona, Real Madrid fans, now they've all joined Aston Villa' – the sensational story of the Ghana Lions
Tucked inside the middle belt of Ghana lies the Ashanti Region, home to Ejisu-Juaben, an unknown district soaked in vibrancy and passionate Aston Villa supporters who have made a viral appearance across social media.
The great plains of Africa are the unlikely destination for almost a thousand Villans to make their buoyant march across Juaben's streets, inviting young and old to bask in a celebration of the Birmingham based Premier League club.
Matchday is done differently here, but with paint soaked torso's, claret and blue flags, shirts and spirit – the Ghana Lions create a scene to behold.
"Without Aston Villa, I can't support another team," passionately claims Ghana Lions founder Owusu Boakye Amando.
"It's my heart, it's in my blood, I can't see another team without mentioning the name Aston Villa."
Distant Dream
Owusu, 20, has followed Villa for 15 years, but Villa Park remains a distant dream, 5,000 miles away from his native Juaben to be exact.
He excitedly remarked: "It is my dream, my heart's desire, when my grandpa was alive it was his dream to come to Villa Park, but he couldn't fulfil it, I want to do it for my grandpa.
"He used to talk about a certain player called 'God', so one day I asked my grandpa 'who is that God you are talking about?' He laughed and told made that there is a God in football too, and his name is Paul McGrath, 'he is one of the best defenders who has ever played the game'.
"My grandpa has passed away now, I have inherited him, what he used to do for us when we were kids, now sometimes the kids will come to me and ask more stories about Aston Villa."
The iconic tales of Peter Withe, Gordon Cowans, European and domestic cup triumphs have resonated here in Ghana for some time and Paul McGrath's legacy is no different. The former Villa and Manchester United defender is one of the many reasons why Owusu now follows the club.
Making a difference
His grandpa spoke gospel of the club and now the Ghana Lions want to make a difference to the lives of youngsters in their homeland, with Villa a vehicle to drive change in their part of the world.
"I made a football team and we support Aston Villa because in my village we have so many talented footballers who have enough talent to play football but they can't make it due to financial difficulties.
"The kids come up to me and I tell them 'ay sit down, in the near future you're going to play like Paul McGrath, you'll be like Jack Grealish, you will be like Agbonlahor, you will be like Ashley Young.'
"When the kids go home they tell their parents that they're going to be great in the future."
Donations
Aston Villa are seeking donations for their Gold Coast supporters with shirts, balls and bibs all welcome. Access to such fundamental equipment has been severely limited in these parts of the world for some time.
"We need a football pitch, hopefully, Prince William can help us! We have more than 50 people playing for our football club and over 700 Villa fans in my village.
"We have many, many talented players, many great talents. We didn't have a football club in my village before, but I've formed an Aston Villa football team and sometimes you'll even find me teaching the kids."
Villa are no strangers to support south of the Atlantic with pockets of Villans also appearing in Gambia, South Africa and Tanzania since national captain Mbwana Samatta became their first player to play in the Premier League.
'Villa Street' in Gambia was formerly named Kafuta, in the most western pocket of Africa until Kevin Boucal – Villa fanatic and local – exported the B6 club to the Bulok Bolon, a river bed off the Gambian River.
It's Kevin's dream to "build up players like Samuel Eto'o, Didier Drogba, Lionel Messi, Jack Grealish and Robert Snodgrass".
Hope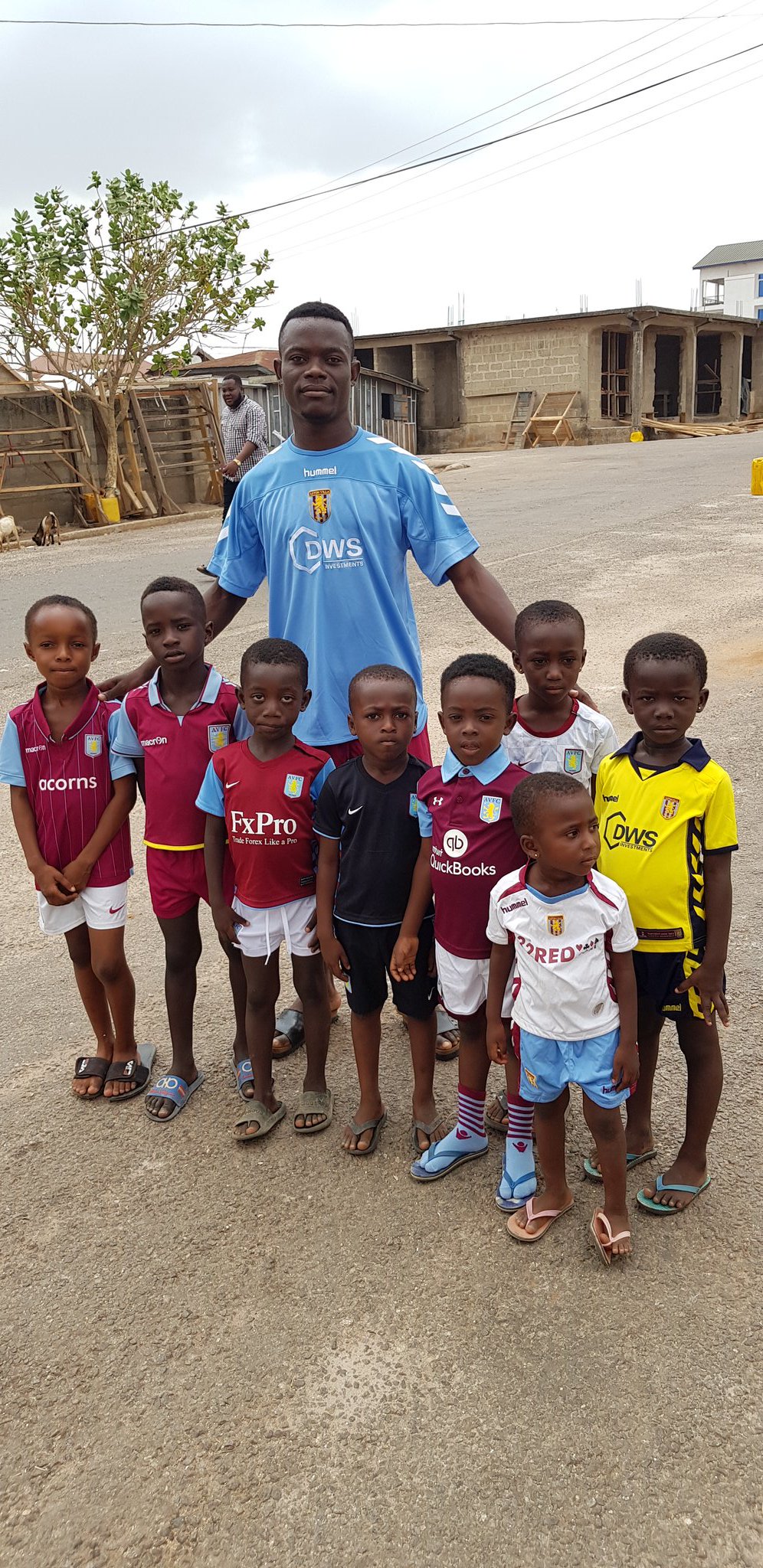 Owusu too wants to offer hope through football to the youth of Ghana.
"I couldn't fulfil my education because my parents couldn't afford the fees but I don't want the kids to be like me, I want them to go onto something far better because education is the key."
With 71 official Lions Clubs now formally recognised in the club's directory, Villa has sown a bond with the globe's largest continent.
Ashanti tribes had roamed the variable terrains of Ghana's great plains for years, resisting European colonisers for centuries. Their independence bred new cultures and traditions unique to Owusu's village of Juaben who now live amongst the greatest amount of historiography in sub-Saharan Africa because of the long history of mutual interaction between Ashanti and respective European powers.
Aston Villa is now culture here. Owusu and his many ancestors demonstrate their endearing love for their club on Twitter every week.
"After we play a game, I gather the kids and we sing songs about Aston Villa because every week we follow the boys in claret and blue," Owusu said, before breaking into a rendition of Villa's famous Allez, Allez Allez chant.
"When we are chanting in the streets, we see many kids come from their houses to join us and yell in excitement.
"We have touched most of the people that weren't Aston Villa fans but United fans, City fans, and Barcelona because of what I have been doing, making a lot of noise and even when Villa lose I'm still singing.
"They all used to be Manchester United, Barcelona, Real Madrid now they've all joined Aston Villa. More than half the people in my village are Villa fans."
Social Media
Social media has so often offered the tools for Lions Clubs to interact and connect with their fellow Villans from around the globe. From Hassan Elkhafagi's Iraq Lions to Singapore, St Louis and San Diego – Aston Villa has stretched across the globe.
Credit to Station 20 for the video.
Recent scandals within football have however shone a negative light on platforms of discussion and interaction, with racism at the very forefront of Twitter's negative wears.
"At first, people were insulting me on social media, they would say I don't deserve to be a Villa fan because of my skin, because I'm black.
"I tell myself that we may have different religions, we may have different beliefs but we all belong to one human race."
The Ghana Lions have grown by over 5,000 followers since creating up an account in September to connect and share their colourful way of celebrating Villa even if there's been little to shout about for Dean Smith's side this season.
Juaben's positivity is refreshing to see even if their hundreds of loyal fans can't be heard from the stands of Villa Park – they will always remain the very best of supporters.
"When we were facing some racial comments most the people in my village wanted me to stop supporting Aston Villa because they thought all Villa fans were racist, but I stand for Villa.
"I told them that it's not Villa fans, Villa is a family no matter where you come from," Owusu proudly claimed.
Official Lions Club

An official club pennant confirming their place as the 71st Lions Club was a proud moment and will go some way in appeasing Juaben's fears of severe racist culture back in England.
"The people in my village have given me a big task, they will only believe this if they see me watching a Villa game with Aston Villa fans – I said this is a big task!
"I hope that Aston Villa can write to me one day and invite me to Villa Park."
Villa have only won five home league games this season in a Premier League campaign that hasn't so far paid back the £127m splashed in a frantic summer window that Nassef Sawiris and Wes Edens flex their financial muscle.
Egyptian born Sawiris is the wealthiest man of his country, North Africa and the second richest on the continent as a whole which dons a populous rich figure of 1.2bn. Coupled with the double Egyptian act on the pitch – Ahmed Elmohamady and Trezeguet – Villa have taken a stronghold in Africa.
A Ghanian Villan
Zimbabwe international Marvelous Nakamba became the fourth of his country to secure a move to the Premier League after Benjani. But what if a Ghanian signed for Villa in the Premier League?
"It would be historic! One of the kids only yesterday said 'I want be the next George Boateng', or the next John McGinn.
"We've got McGinn, super John McGinn…" Owusu wholeheartedly sang as he waxed lyrical about his home nation.
"Every young midfielder here wants to be like John McGinn or Jack Grealish, Jack is a hero here too."
Whether or not Villa can conclude their Premier League season amid Coronavirus fears, the Ghana Lions will be supporting their beloved club from afar, as they have for over a decade.
The Ghana Lions have questioned all we knew about fan groups, where they originate, why and how they follow a club – their few degrees displacement from the equator has been mapped and their voice heard forevermore.
If you would like to make a donation the to Ghana Lions, please donate via their go fund page here.