Decades of urban decay and state neglect has taken its toll on Brazil's signature city, slowly turning the outlying neighbourhoods from blue-collar slums into powder kegs of violence and drugs.
Under the shadow of Christ the Redeemer, lawless favelas clutter the most picturesque Latin American skyline. A lone kite flies over bordering canals – freedom is a constant struggle upon the steep ascending Rio de Janeiro hillsides.
These settlements are nothing new, they've been around for hundreds of years in Brazilian culture, but through government insufficiencies and incompetence, housing built to support those removed from neighbouring favelas were brought into Nova Holanda.
Inadequate supporting services and over population increased a fast decline of settlements starved of First World basics and modern practices – these the humble beginnings for a Premier League footballer.
A proud 14-year-old whose dreams of representing his Nova Holanda community were realised when Vasco visited the shanty enclave in 2013.
The only respite from a culture of firearms and flip-flops, cocaine and crack, were the gritty, sweltering tarmac surfaces where Gabriel Jesus, Richarlison and legends Romario and Zico began their rags to riches fairytale.
Violence and nefariousness have always very much been the local past-times but street futebol defines the carnival way in which he'll dance to the samba beat, flicking the ball above his opponents head with a composure like he was flogging watermelon on Copacabana Beach – South American flair rarely graces B6.
Born with the football between his feet, Douglas Luiz grew up on the periphery of Rio not far from carnivalesque amphitheatres, with noise and colour all in rhythm to the playfulness and creativity of Nova Holanda.
Space is sacred within the tight confines between shanty buildings and so, every spare yard is dedicated to soccer. Each mini pitch comes with the disturbing view of the Maracanã stadium, which evokes a broken connection between the state and its inhabitants.
Enemy fractions are just blocks away, but the heart of Nova Holanda pounds as Rio's northern sprawl realises a lifeblood stronger than any other on the globe. Pitter-patter pitter-patter, bare-feet clap the gravel and smack the ball to the ovation of onlookers delighted to watch friends move freely on a pitch so unique to these parts.
"I am proud to be from the favela, or 'community' as we say, of Nova Holanda," Luiz told Sky Sports.
"Especially because when people think of communities of favelas such as that, they think negative things, bad things, but in fact, there are many talented people there, a lot of good talent.
"And not just for football; we also have music, artists, and for that reason, I am very happy to be representing my community, it is an honour. Sure, there are difficulties there, but if anything it shows that with a bit of effort and despite those difficulties, you can still succeed."
Flatland urban housing, pink, orange and yellow all project Rio's vibrancy, but crime and disorder never comes out of the blue. Military personnel were often called into Luiz's neighbourhood with unarmed police a rarity 20 miles outside of Rio.
"Obviously in the community where I am from, you will always have difficulties," continued Luiz.
"Whether it be a shooting, some sort of fight, some sort of disagreement or a police operation. But I maintained my focus, and despite those difficulties, I continued.
"It's just another obstacle, and we all had obstacles in our life, you just have to get through that. I'm happy and honoured to be representing that.
"I think it's many things that prepares you for life like that. It was obviously a massive learning process for me. I saw the bad, and I chose not to commit those mistakes and not to make those errors."
Luiz was gifted on the samba pitches. Only the most talented, technical players have the opportunity to represent their roots rather than escape the challenges of a former life. A swagger only Brazilian ballers can strut, blonde locks and dyed cornrows to boot, he looks the part too.
Vasco da Gama
A neat first touch, footballing brain and strong upper body just about cover the basic qualities of 'Douggie' – the Brummie adopted midfielder making a serious impression since the Premier League's resumption.
The favela nurtured the raw ability Luiz has possessed since his teens and by circumstance holds the typical traits of a South American midfielder. If England is the home of soccer, Brazil is its enormous playing field, and Luiz didn't half make use of it.
"Douglas is the real thing," former Vasco coach Milton Mendes explained to Yahoo Sport.
"He's one of the top defensive midfielders in Brazil, but he can play a more attacking role when the team requires. He has potential that you don't see in many players.
He's a classic No.8 and I'm sure Tite (Brazil coach) is smart enough to find a spot for him in the Seleção."
Luiz also acknowledged how his upbringing has benefited the early stages of his career.
"Obviously in that situation, there is a lot of football. It's actually a very physical game, so you take the best from the situation.
"There are many of us from these types of communities. It just shows that I am not the first one to succeed from this kind of situation. But now we have to look for the future, take positives from that, and leave behind a good legacy."
Four-time Brazilian champions Vasco da Gama identified Luiz as the next big thing coming out of Brazil's 'marvellous city' wherein Itaguaí, 40 miles or so west of Luiz's hometown, the youngster took his first steps in professional football. There was however more than distance to blame for some punctuality problems.
Police restrictions in Nova Holanda made Luiz work harder for his dream, as he'd often turn up late or even miss training sessions and time with the coaches keen to accelerate his development.
Luckily, Luiz had a significant mentor during his time with Vasco. 1994 World Cup winner Jorginho took the dynamic midfielder under his wing to provide a pathway into the game in 2016.
"I am certain he has a brilliant future ahead of him," the former Bundesliga winner claimed.
"He has technical ability, strength, a powerful shot from outside the area, that penetration.
"He's not the kind of player who dominates his man and scraps, but he has good positional sense and brings the ball out really well.
"His passing is great over short and long distances. He can carry the ball, start counter-attacks, but also time his runs into the area. That makes him dangerous and he gets some important goals."
Jorginho, also born in Rio de Janeiro, paved his way to Europe as a youngster playing for Bayer Leverkusen and later Bayern Munich playing alongside Olaf Thon, Thomas Helmer and Lothar Matthäus.
Luiz was a key figure of Vasco's most promising academy set-up for almost a generation, and Jorginho was reluctant in allowing a then 17-year-old to stake his claim in the first team.
"I saw him training with the youth team, I liked the way he played and we decided to promote him to train with the senior squad," he told Sport Globo.
"He's a kid with huge talent. He grabbed the opportunity we gave him and didn't let it go."
Making an impression in Europe
Douglas immediately caught the eye of European suiters having burst on the scene in Brazil, scoring five goals in 39 games as a teenager for the Cruzmaltino. Lyon and CSKA Moscow made contact with Vasco after sending scouts to a number of Brazil U20 games earlier in 2017.
He played a crucial role in Vasco's first season back in the Campeonato Brasileiro Série A, relying on Luiz's old head on young shoulders to help assist a seventh-placed finish in Brazil's top-flight after securing promotion only a year before.
He was no show pony; there was a maturity to his game that has won over fans and Vasco coaches alike. All too is the nature of football in Brazil, young talent is snatched from under the watchful eyes of a passionate group of fans like no other.
Perhaps Luiz's big move to Europe snuck under the radar when Pep Guardiola brought big-money transfer, Kyle Walker, to The Etihad in July 2017. It meant his arrival in the UK was both brief and understated.
The then 19-year-old midfielder penned a five-year deal with the Citizens, who were believed to have stumped up around £10.5m – with a further £1.75m in add-ons – for his services. But it was a long-term capture for City who immediately loaned Luiz out to sister club Girona in La Liga.
He was due to return in 2018, but was denied a work permit and went back for a second season at Girona, much to Pep Guardiola's frustration. Upon his Manchester arrival, City director of football Txiki Begiristain swore Luiz was joining with a huge amount of potential.
He said: "He is an exciting player with great potential, and everyone here is looking forward to helping him develop his talent and progress in the game."
Whilst Luiz remained an unknown quantity on these shores throughout his two years stay away from Man City, Guardiola was keen to make the Brazilian known in 2018 before a pesky government intervention ruled out his big plans for Luiz.
When City missed out on signing Jorginho in 2018's summer, Guardiola wanted to rotate Douglas as a defensive midfielder with Fernandinho in his Premier League squad, but his annoyance grew until Luiz became a special exception to visa laws, granting his eventual move to Aston Villa.
Fours years have passed since Luiz last pulled on the classic black and white sache of Vasco and the 22-year-old has accounted for £26m in transfer fees, made over 30 Premier League appearances and reached a League Cup final, all whilst winning a senior national cap and claiming 2019 Toulon Tournament glory and the competition's best player award.
Aiding Coronavirus efforts back home
Most players of his age in the Premier League would've been pampered in academy systems, dipping their toes in and out of top-flight action between a midweek Premier League 2 campaign. Luiz's route was far from luxurious, far from home.
Nova Holanda is one of the many very vulnerable communities across Rio, let alone the 3,000 miles that separates opposing Brazilian states Recife and Manaus. South America's largest country has suffered horrifically from the Coronavirus epidemic.
Daily infection rates have fluctuated between 30,000-40,000 in past days whilst the death toll surpassed the UK's total a fortnight ago. Luiz was determined to help his community by donating care packages to those in need.
"I think it's the least I could do for the community where I come from. I am living what is deemed to be a very good life, so I can at least help with their struggles.
"It's not just there, people are struggling throughout the world, so I think we need to help as much as we can. If everyone does a little bit for the place they are from, or even any place that has touched their hearts, that's always good.
"I still keep contact with my community, and it's not just now that we're in a particularly turbulent situation. I always like to keep in contact."
Aston Villa and Pep's frustrations
Last summer, Luiz was able to gain a work permit, and the £15m deal Villa struck with City included a buyback clause. But considering Guardiola's admiration for Luiz, any deal to secure his services at Villa Park was welcomed.
'You've got a really good lad there'. High praise from perfectionist Guardiola, as he reminded Villa boss Dean Smith about a player he reluctantly had to let slip through his fingers earlier this season.
Guardiola has spoken publicly about the buyback clause in Douglas' contract, and with Fernandinho now seemingly required at centre-back while getting up there in age, Rodri will need future back-up.
"He would be here if a work permit were possible if the Premier League said it would be possible but now he is at Aston Villa," complained Guardiola last year.
"We have an option to get him back but sometimes life is like this. We wanted him because last season we had problems in that position because we didn't buy a holding midfielder.
"We wanted him before so we thought about it but the rules with the work permit meant it was not possible. I thought he would be here with the pre-season he played last year in the States, he was really good. I think he had the quality to play with us but he could not do it.
"The talent is always there, we'll see at the end of the season what his level is but the quality is always there. We spent £12-£14m because he's a player with a huge capacity to play with us.
"I'm so sad and disappointed for Douglas, he could have played, he's shown many good things."
Luiz went through an extensive process last summer before being given the green light to join up with Villa, but the Brazil under-21 captain did not arrive at Bodymoor Heath until just a few days before the start of the season.
He can be excused for a couple of rusty displays despite netting Villa's first home goal back in the Premier League with some aplomb. Shaping his body perfectly to impart the optimum degree of whip to crash the ball off the crossbar and past Aaron Ramsdale. The bar was still shaking as the Holte End erupted, witnessing its first goal back in the big time.
A cracker against Norwich that added a fifth to proceedings on Norfolk wasn't bad either, and clearing a goal-bound effort off the line in the crucial reverse fixture in December demonstrated Luiz's versatility. Though, in the midst of Villa's worst run of the season before lockdown, Luiz failed to show what he's all about.
Lacking consistency is possibly to blame, but Villa fans can excuse the odd performance for a player with bags of potential to perform at the highest level of European football. Recently, as the Premier League resumed for the final fixtures of the season, Luiz has been a mainstay and the first name on the team-sheet alongside Jack Grealish in Smith's side.
Deployed as a deeper-sitting midfielder following his role at Girona, Douglas can offer something different to what's already in Villa's limited ranks. Rather than winning the ball and giving it to a more technically gifted teammate, the 22-year-old is willing to carry the ball forward himself.
Villa have also appeared considerably stronger in the defensive phase with Douglas' protection post lockdown. The Brazilian brings comfort and confidence on the ball to complement his terrier-like defensive play. He's starting to identify as a proper, all-action South American midfielder.
Dean Smith hung out various of his first-team players to dry for lacking the quality and belief to get a result at St Mary's in February. He suggested he has far too many "training ground players" in the dressing room – and Douglas Luiz may well have been one. Without fans, Luiz can play his own game, concentrate on systems and instructions passed on from Smith and teammates alike.
Though, it's not just simply stadium closures that's helped Luiz bed in at Villa Park and more importantly Bodymoor Heath. During the Coronavirus lockdown period, Luiz passed a statutory English exam because of his works visa.
Understanding John McGinn's Scottish burr
Smith welcomed Luiz's fast learning. He told the Express & Star: "That makes a massive difference, it certainly helped him mixing with the players.
"You're always on the periphery if you're not understanding what the others are saying and now he's got a really good grasp of the language.
"The exams were an external thing, you have to do certain ones to continue with your visa. "He's passed that now, and the lads have been having a bit of a laugh with him because he keeps saying things like: 'The television is next to the table!'"
Luiz hadn't played in England despite signing for City in 2017 until starting at the all-new, grand-spanking Tottenham Hotspur Stadium in Villa's first game back in the top-flight. John McGinn confessed that he couldn't understand his midfielder partner for over half the season.
"I played with Douglas Luiz for the first half of the season before I got injured and he genuinely couldn't understand a word I said," McGinn told the Daily Record.
"I don't know if he spent the lockdown with his tutor online but fair play to him because it helps so much when he can understand 'man on!'
"I don't think they know what 'man on' is in Brazil.
"There were a lot of players all from different leagues and countries kind of flung together and because of the money that was spent, people just expected us to gel instantly. But it really doesn't work like that, especially in a league where you get punished for making mistakes."
Villa boss Smith also acknowledged Luiz's improved communication between his teammates.
He explained: "He needed to understand his teammates a lot more, I don't just mean in English, I mean the type of passes they want to receive from him and where they like him to be.
"Football is about relationships on the pitch and knowing one another, strengths and weaknesses, he needed to get to know the players more.
"The language has helped that. But the break has also helped him become a fitter player.
"What gets forgotten is he walked in the door two days before the Tottenham game at the start of the season.
"There wasn't an awful lot of pre-season Douglas had with us. Now he's got a really good understanding of what we are about."
Luiz made five-goal contributions in his first 25 games for Villa in all competitions, with starts and appearances off the bench adding to Luiz's inability to nail down a consistent run of games. Perhaps Smith has used McGinn in all of Villa's returning fixtures despite his obvious lack of match fitness alongside Luiz to promote familiarisation for the young Brazilian at the heart of a Premier League midfield.
Until he sustained a season-ending blow at Turf Moor on New Year's Day, compatriot Wesley became good friends with Douglas as you'd expect. It's not often Villa has a couple of Brazilians to shout about.
National team aspirations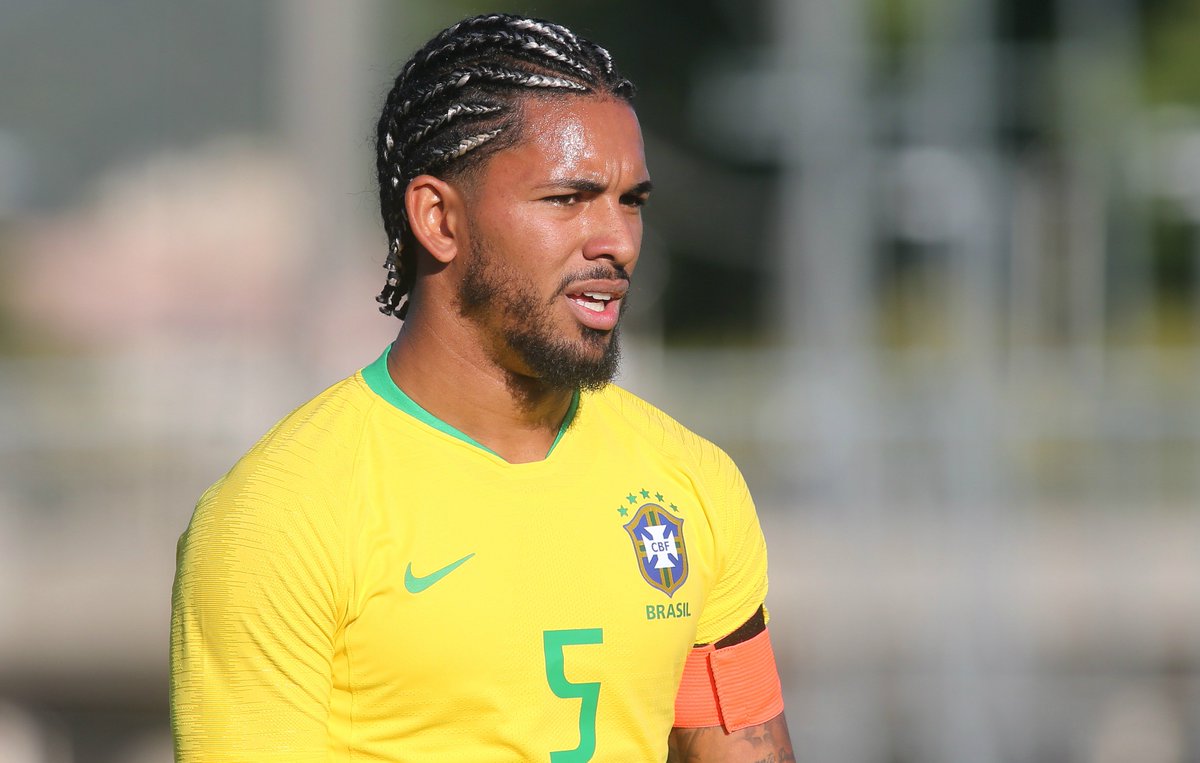 Representing the Verde-Amarela is the pinnacle of any Brazilian's career who retain an unconditional pride and passion for the five stars that are sown above the Brasileira de Futebol logo. Current Brazil national head coach Tite is aware of his responsibility to bring through a new crop of young talents.
Having represented Brazil at numerous youth levels, captained the U21 side and won silverware for reserve Seleção teams, Douglas was itching to get his senior opportunity. It came in October, last year, against South Korea as Brazil won 3-0 in a friendly.
Albeit a ten minute cameo, Luiz's first cap was one he'll back on with much fondness as he became an exclusive member of the 18 Brazilian Premier League players to have notched over 400 caps between them, with a mix of experience and promising futures aplenty.
"Flair, creativity, guts, physicality. All of those words describe the Brazilian players," according to Villa's midfield star.
"Brazilian players are really a master of their own talent. There have been some incredible players, and it is that natural style, natural feel, the happiness, the dribbling, the physical features.
"Ronaldinho, in my opinion, was the best at all of those things. He was able to take that happiness, that physicality, and that's what makes Brazilian players different."
Wesley also earned a first senior cap for the national side last year and even came close to scoring against rivals Argentina in Saudi Arabia. Sharing the same pitch as Leo Messi isn't the worst way to make your international debut.
He and Douglas represent a key part of a new-look, five-time World Cup-winning Brazil national side looking towards youth to become the global football powerhouse once again.