"I'll call you in a few mins, just got tested positive for COVID-19."
New York Villans founder Ben McCool is so often the author of apocalyptic narratives but these unprecedented times have written their own chapter in history as the Coronavirus has brought The City That Never Sleeps to a standstill.
Comic book aficionado by day, Villan by night – McCool has exported the claret and blue across the pond since forming the New York Villans – one of 71 official Aston Villa Lions Clubs from around the world.
From Qatar to Queensland, Villa's reach stretches across five continents, but no city has been affected more than the current epicentre of the virus. New York is more densely populated than any other city in western civilisation and including Manhattan, its inhabitants are pulling together to aid an epic fundraiser.
"We thought let's make this a complete group effort, rather than just a Premier League or Serie A effort"
McCool's Lions Club has joined an effort that's raised $38,138 for NYC Health + Hospitals, who serve more than one million New Yorkers annually in over 70 patient care locations across five boroughs.
The social media campaign #NYKicksCoronavirus has been shared by 34 football supporter clubs in the Big Apple and according to McCool, the melting pot of fan groups involved are starting to see the fruits of their labour.
He said: "We thought let's make this a complete group effort, rather than just a Premier League or Serie A effort, let's make it a joint New York supporters group effort, so when we were asked to participate, I was more than delighted to do so.
"I was contacted by a couple of Italian fan groups because the #NYKicksCoronavirus campaign was set-up at the time that Italy was the epicentre of what was going on.
"The owner of the A.S. Roma and Inter Milan groups, in particular, were paramount in bringing this all together, from what I understand they reached out to all the people that they knew, and it's reached 34 of us now."
Proud & delighted to be among 34 football supporters' clubs of NYC teaming up to tackle COVID-19.
Please retweet, and if you're able, chip in to the GoFundMe below. All $ raised will be donated to NYC Health + Hospitals. https://t.co/4glmmhRe3P #nykickscoronavirus #Covid_19 #NYC pic.twitter.com/Cr4aByCF7t

— New York Villans (@NewYorkVillans) April 7, 2020
A target of $15,000 was surpassed within the first 48 hours of the fundraiser going live, with a generous contribution from their transatlantic cousins.
"We had a massive helping hand from Roma's club chairman, supporters group and charity," said McCool.
"Jim Pallotta pledged $10,000 himself and the fan group also the same amount, so of course with a $20,000 helping hand it smashed the original target and if we can cross the $40,000 mark it would be absolutely brilliant.
"The fact that we've had contributions from literally every club involved, it's a massive testament to the community and the togetherness of New York, you can tell we've all pulled together when Leeds and Manchester United fans are talking together peacefully!"
Coronavirus-related deaths in the US has topped 40,000 with New York recording nearly half of all fatalities with an estimated 240,00 total confirmed cases of the virus.
"I had a slight shortness of breath, tightness of the chest, proper body aches"
NY Villans chief McCool was recently confirmed to have contracted COVID-19 himself, despite initial hangover symptoms from a boozy St Paddy's weekend.
"I had a slight shortness of breath, tightness of the chest, proper body aches, it felt like I had the most brutal workout, but the reality was I'd been in the pub all weekend so I knew exercise wasn't to blame!
"Then I had the classic dry cough, it feels like you're trying to bring up some nasty phlegm but nothing is happening. I'd say the most prominent symptom which completely besieged me for nine maybe ten days was crippling fatigue.
"A new local hospital practice was looking for volunteers for plasma donations from those who had tested positive or suspected they may have had the virus, so I volunteered because I wanted to help people who have been damaged by this nonsense.
"Also, on a more selfish level, I wanted to know for certain that I had it and low and behold, four minutes before you were meant to call, I get an email that confirmed that I did indeed have it!
"I'm a lifelong insomniac and looking at my Fitbit report I was sleeping for about ten hours a night, and taking three-hour naps, that's when I knew something wasn't quite right. I slept more in ten days than I probably did in ten years!"
"It really is so incredibly eerie"
McCool's family was brought up a stone's throw from Villa Park and in south Birmingham McCool developed his Brummie tongue that's since been skewed by his new skyscraper littered surroundings in 2008. The hustle and bustle of the Empire State have never been quieter.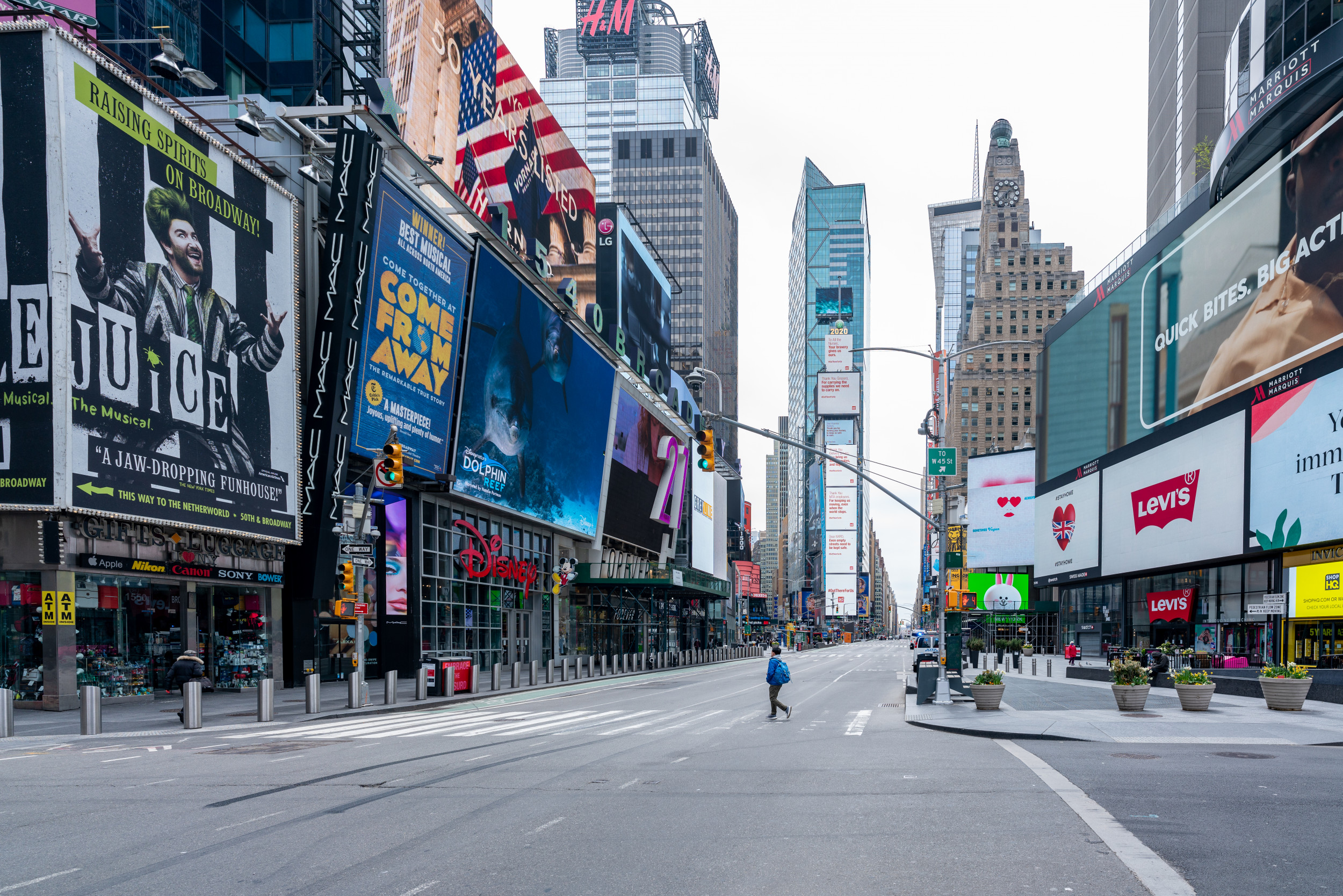 "It really is so incredibly eerie, I took a walk up to Times Square and I snapped some photos that tell you all you need to know, it's like a zombie apocalypse movie minus the zombies, it's pure desolation, most streets are totally bereft of any sorts of activity.
"I know in the UK Boris Johnson asked people to take up only one physical activity per day or go out for only essential needs, but here, both sides of Manhattan have parks and all of a sudden everyone's going for a jog and in certain times of the day it's borderline congested, it totally betrays social distancing rules.
"I was in Central Park, reason being I was being tested right next to it, and I walked through it on the way home and it wasn't as congested as normal so it's really surreal to walk around these comparably usually busy streets, but it's a haunting reminder that if we don't do anything about this the streets might just be this empty because so many people have unfortunately perished."
Sporting events suspended
In the US, two major sporting associations, the NBA and NFL have both suspended their seasons indefinitely whilst the Coronavirus perpetuates across state borders. Back home, the Premier League are yet to decide how to conclude the football season.
When Jack Grealish next leads the Villa out on a pristine Saturday afternoon in B6, McCool's band of brothers will march under the shadow of the Empire State Building in a more scenic escapade to those chasing three o'clock in Perry Barr or Erdington.
McCool explains: "There are two main soccer bars in Manhattan, there's Legends, which is the Villa pub which is opposite the Empire State Building, that particular pub is where the main Premier League teams meet.
"The other pub is called Smithfield Hall, whilst Liverpool have several of their own, including 'Carragher's' which is owned partially by shock horror Jamie Carragher."
McCool is a Villa boy from Aston and despite a 3,000-mile separation from Villa Park, matchday traditions remain just as passionate to those singing on the stands of Villa Park.
Every week he follows the boys in claret and blue with up to 40 New York Villans on a typical matchday, though with draconian measures implemented across America, bars and pubs have closed with an uncertain future.
"We know that Smithfield Hall has launched a GoFundMe campaign in an attempt to support the bar staff, unfortunately, it's the great uncertainty.
"The way it works here in America, unlike a barman or bartender in the UK, you'll get so many tips, so if you work in a busy bar and you're a friendly face with a good reputation with customers it's a viable wage to earn but you're absolutely dependent on customers and tips. So, when the bar has been shut for a month already there's little in the way of another source of income.
"Hopefully they'll be extra busy when people celebrate the return to normality but unfortunately, with many instances in the nightmare of this pandemic, nothing is certain at this point."
"I've always been tempted to drop Villa related stuff in my work"
New York has become the very state of flux, but whilst McCool can support those in need through the means of Aston Villa, the writer and self-described "professional nerd" has plans to use his boyhood club for his own duties.
Popularised as the home of Superman, McCool has found his own metropolis, albeit in a concrete jungle – what better place to fulfil a personal mission.
"I've always been tempted to drop Villa related stuff in my work if I can sneak more of it into my stories, the kinds of things that only Villa fans would be able to pick up and get that'd be brilliant.
"The first comic book I had published by Image Comics – their most famous for publishing the Walking Dead – I did a book called 'Choker', and in the first issue, I used the names Ashley Young and James Milner as two police officers. Within a month of the comic being published both had left! Ashley Young to Manchester United and James Milner to Man City, I was the kiss of death!
"I knew that it would be mainly Americans who'd read it and they wouldn't know who Ashely Young or James Milner were, so I put their names into the comic and they were promptly sold to clubs who were destined to win stuff."