Aston Villa has once against sold out their full allocation of 3,000 for tomorrow nights trip up the M1 to take on Sheffield United at Bramall Lane.
Bramall Lane is the oldest major stadium in the world to be hosting professional association football matches and has been the home of Sheffield United since they were established in 1889.
The ground was originally built as a cricket ground and in the 19th century, both Sheffield FC and Sheffield Wednesday used the ground.
Bramall Lane is made up of four stands, all filled in at the corners and has a capacity of 32,702.
Sheffield United have put together a very good visitors guide which you can download here.
THE AWAY SUPPORTERS
Away supporters are housed in the lower tier of the Redbrik Estate Agency Stand (aka Bramall Lane Stand) and can hold up to 3,000 supporters depending on demand.
The stand is very close to the pitch making the views good and the atmosphere tends to be pretty loud from the home supporters. The usual tv screens and betting outlets are available inside the stadium.
Food on offer includes Pukka Pies (£3.50), sausage rolls (£2.90) and burgers (£3.00). Alcohol is available depending on fan behaviour with Carlsberg and Cider (£3.60) on offer.
For those taking flags, please ensure you have a fire certificate or you will not be able to take it into the ground.
I NEED A PRE-MATCH PINT!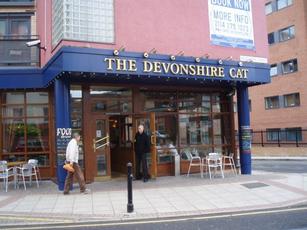 Pubs around the ground tend to be for away supporters only. In fact, on my two previous visits, I have been directed straight into the ground despite arriving 3-4 hours before kick off.
The Globe is quite popular with those travelling up by train and is around a 15 minute walk from Bramall Lane. Fans will be ejected if they insist on singing and the police usually show their presence.
The Devonshire Cat is also quite popular on Wellington Street. They pride themselves on offering quality craft and cask beers.
Other pubs that allow away fans include Sheaf Island (Wetherspoons), The Howard and The Sheffield Tap.
HOW DO I GET THERE?
Leave at Junction 29 on the M1 and take the A617 towards Chesterfield. Continue into Chesterfield and at the roundabout junction with the A61 take the third exit towards Sheffield.
Continue on the A61 through Dronfield and you will arrive in Sheffield. Continue past the Earl of Arundel and Surrey Public House before taking the next left onto Bramall Lane.
A train from Birmingham New Street to Sheffield will take around 75 minutes and the ground is just a few minutes walk away.
PARKING
There is no parking available at Bramall Lane and surrounding areas are controlled by pay and display or permit holder only restrictions.
There are a number of multi-storey car parks in and around Sheffield town centre. The club recommends APCOA Car Parking (S1 4QW) and if you show your ticket you can park here all day for £3.50.
EXTRA INFORMATION
If you have Twitter then it is well worth following the official WMP Villa FC account. PC Stuart Bladen usually tweets live updates throughout the day.